Plant analytics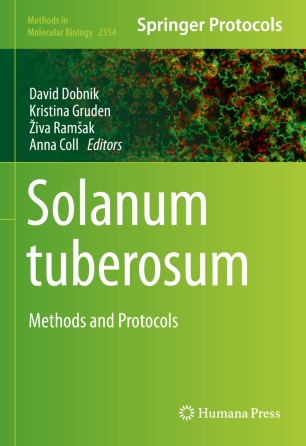 We are very happy to see our latest book chapter on multiplex plant hormone analytics finally printed in Solanum tuberosum – Methods and Protocols, edited by David Dobnik, Kristina Gruden, Živa Ramšak, and Anna Coll from the National Institute of Biology (NIB) in Slovenia.
Pérez-Alonso, M.M. et al. 2021 Methods Mol. Biol. 
The potato is among the most important food crops in the world and of incalculable value for global food security. In 2012, the crop area for potato in Northern and Western Europe reached almost 1 million ha and a production of over 37 million tons with an average yield between 18 and 45 tons/ha. However, current potato production is put in jeopardy by a number of important biotic stress factors including late blight (Phytophthora infestans), which was responsible for the disastrous Irish potato famine during 1843–1845. P. infestans shows a remarkable capacity for adaptation with respect to host genotype and applied fungicides. This has made disease management to become more and more difficult and put substantial emphasis on gaining more detailed insight into the molecular bases of plant pathogen interactions, in order to find more sophisticated ways for biological pest control. The plant hormones jasmonic acid (JA) and salicylic acid (SA) play central roles in the regulation of plant responses to biotic foes. In addition, other phytohormones including auxins and abscisic acid (ABA) have also been associated with plant defense responses. For this reason, the parallel analysis of multiple plant hormones in small tissue amounts represents an important field of research in contemporary plant sciences. Here, we describe a highly sensitive and accurate method for the quantitative analysis of ABA, JA, SA, and indole-3-acetic acid in potato plants by gas chromatography-coupled tandem mass spectrometry (GC-MS/MS).