Transcriptional fine tuning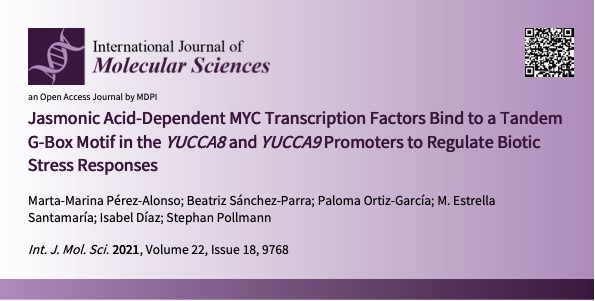 It took indeed a while, until we got this part of our work wrapped up and ready for publication. However, thanks to the great work of our ex-lab member Marta Pérez Alonso, who is now doing a Postdoc in Hannele Tuominen's lab in Umeå, Sweden, it was possible to get this novel insight into jasmonic acid (JA) – indole-3-acetic acid (IAA) crosstalk in Arabidopsis published. Due to the diligent work of Marta, we gained a very detailed picture of the molecular basis by which JA-responsive bHLH transcription factors of the MYC family orchestrate the expression of the two YUCCA genes, YUC8 and YUC9.
Pérez-Alonso, M.M. et al. 2021 International Journal of Molecular Sciences
The indole-3-pyruvic acid pathway is the main route for auxin biosynthesis in higher plants. Tryptophan aminotransferases (TAA1/TAR) and members of the YUCCA family of flavin-containing monooxygenases catalyze the conversion of l-tryptophan via indole-3-pyruvic acid to indole-3-acetic acid (IAA). It has been described that jasmonic acid (JA) locally produced in response to mechanical wounding triggers the de novo formation of IAA through the induction of two YUCCA genes, YUC8 and YUC9. Here, we report the direct involvement of a small number of basic helix-loop-helix transcription factors of the MYC family in this process. We show that the JA-mediated regulation of the expression of the YUC8 and YUC9 genes depends on the abundance of MYC2, MYC3, and MYC4. In support of this observation, seedlings of myc knockout mutants displayed a strongly reduced response to JA-mediated IAA formation. Furthermore, transactivation assays provided experimental evidence for the binding of MYC transcription factors to a particular tandem G-box motif abundant in the promoter regions of YUC8 and YUC9, but not in the promoters of the other YUCCA isogenes. Moreover, we demonstrate that plants that constitutively overexpress YUC8 and YUC9 show less damage after spider mite infestation, thereby underlining the role of auxin in plant responses to biotic stress signals.