Challenge accepted
Green remediation of mine affected soils: putting the microorganisms to work
More than happy to be part of the BioMinas project and the CBGP team working on soil microbes, endophyte fungi, and the application of biochar as a soil amendment to sanitise heavy metal contaminated soils in mining dumps. Looking forward to kick the project off as soon as possible.
LET'S GOOOO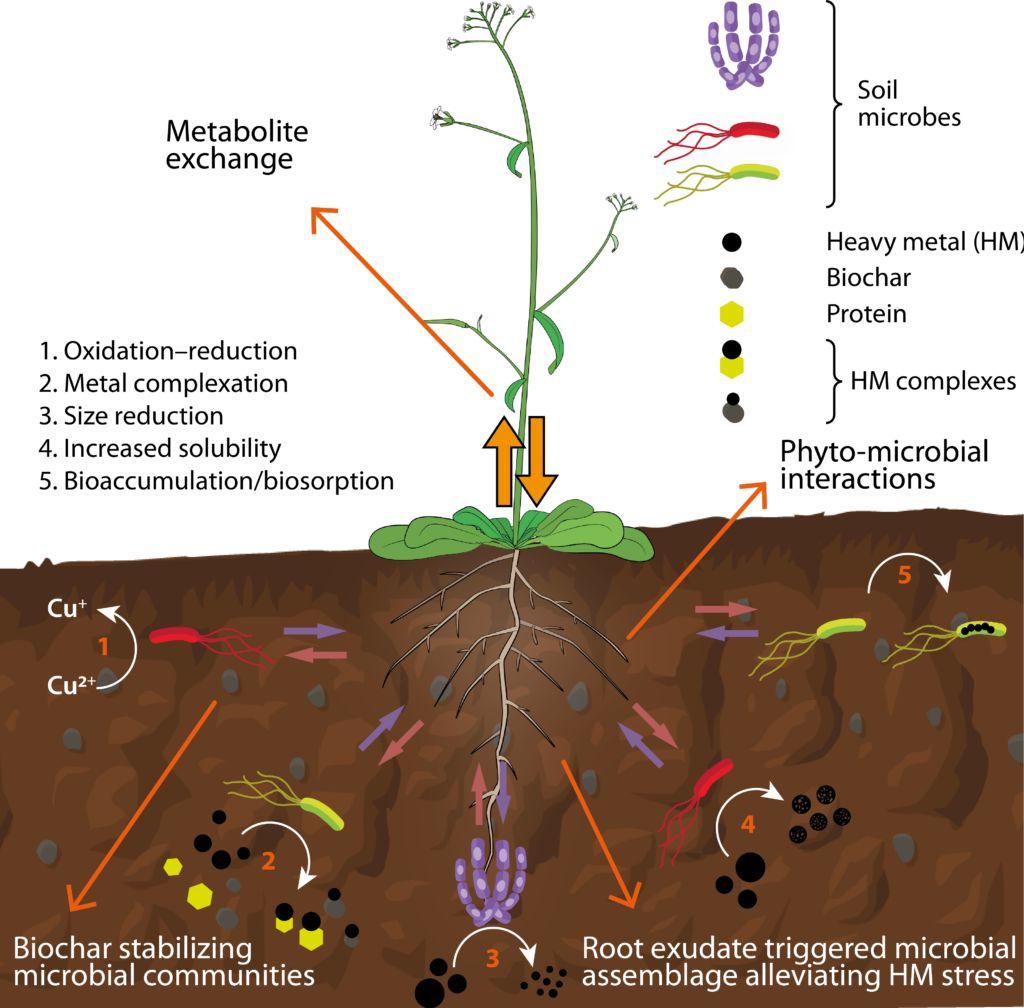 Synopsis
Soils are non-renewable resources in the short term. Soil contamination from mining activities is a worldwide problem that affects the sustainability of the soil ecosystem. The increasing loss of soil functionality due to potentially toxic trace element contamination is a global environmental problem that carries significant risks to ecosystems and human health. Phytostabilization of metals in these areas not only prevents metals from entering the food chain and dispersing to agricultural land and water resources, but also contributes to the fixation of atmospheric carbon in the soil, which contributes to climate change mitigation. Phytostabilization promotes in situ inactivation of trace elements using exclusion plants, organic amendments and microorganisms. The aim of this proposal is to evaluate the effectiveness of phytostabilizing techniques in the remediation of contaminated soils using as indicators of soil quality improvement, both the decrease of bioavailable metals and improvement of soil physicochemical properties, as well as microbiological and biotechnological indicators.
The general objective of this project is the recovery of contaminated soils by reducing the availability of trace elements to plants and preventing the dispersion of detrimental particles to agricultural land and water. Specific objectives and the strategies involved in this proposal are: (1) Identification of native plants and microorganisms associated to them adapted to soils with high levels of contamination by metals in an abandoned mine in the Community of Madrid, evaluating the potential of native isolated microorganism to be used as inoculum in microbe-assisted phytomanagement studies (plants and rhizospheric soils will be sampled and analysed for metals and microorganisms with potential for improving plant growth); (2) Physiological adaptations in tolerance to metal stress in model plants induced by their interaction with microbiota and biochar treatment (a growth chamber will be used to test the ability of biochar and native microorganisms to promote metal stabilisation and biodiversity); (3) Identification and isolation of endophytic fungi from native plants adapted to soils contaminated with metals and their potential use as bioinoculants for bioremediation; and (4) Comparative transcriptomic analysis of native flora species tolerant to metal contamination and metabolic profile of the whole microbial community in the soil samples (native plants will be used in a growth chamber with contaminated soil. Transcriptomic profiles will be analysed).
The results of this project can provide novel and sustainable solutions for the remediation of contaminated soils of abandoned mining areas in a bioeconomy context. In this project we propose a phytomanagement strategy using biochar, selected native plants and their associated endophytic and rhizospheric microorganisms, both adapted to these metalliferous environments. This will advance knowledge about plant-soil-microbiome interactions in contaminated soils and their role in phytoremediation and could allow the elaboration of suitable inoculants that can be used as biofertilisers in these soils, thus reducing costs and inputs of conventional fertilisers.